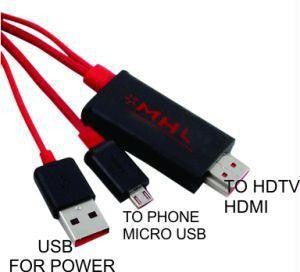 MHL Micro USB to HDMI TV Connector Cable
---
Mobile High-definition Link® (MHL) technology allows you to easily connect your smartphone, tablet, or other mobile device to HDTVs, digital projectors, in-dash automotive displays, and a rapidly expanding ecosystem of other devices. Developed by Silicon Image as a member of the MHL Consortium (along with Nokia, Samsung, Sony, and Toshiba), MHL technology features a single-cable, 5-pin (11 pin) digital interface that transmits HD video and surround audio while simultaneously providing power to your mobile device.
Key Features
Brings games, photos, videos, and all your mobile apps to the big screen
Simultaneously charges your phone while you're connected, so you'll never be interrupted by a dead battery
Transmits uncompressed HD video up to 1080p/60 and 7.1 channel surround sound
Lets you connect to a rapidly expanding universe of MHL-enabled products, from TVs and AVRs to streaming media sticks, specialized docking stations, and more
Connector-agnostic, low pin-count interface allows mobile devices to maintain their small form factor and keep implementation costs low
Supports HDCP technology for viewing protected digital content
This is the MHL connector capable of directly output your video or audio files from your samsung, htc or in general micro usb android phone device to your LCD directly via HDMI cable
This new MHL comes with built in HDMI, USB, Micro USB port. And it is a 2 meter length cable for easier access to your mobile phones
Now you can enjoy your movies in large screen
This version is compatible with Samsung galaxy S3 (I9300), Note2 (N7100) and older generation models
Features:
1) Micro USB MHL to HDMI converter adapter cable, which allow you to connect mobile phone to HDTV,up to 1080p resolution. 
2) The MHL (Mobile High-Definition Link) Adapter is an accessory made with one purpose in mind to connect your MHL Host like MHL Phone or Tablet to your HDTV for viewing content on a larger screen. 
3) This state-of-the-art technology connects your MHL Host to your monitor or TV from the micro USB port to the HDMI port. 
4) Connects Micro USB Female port to Computer or Power Adapter for charging and getting power using a Micro USB to USB M/M cable. 5)
5) Supports Max resolution to 1080p and all bandwidth between 25-75MHz
---
Share this Product
---
More from this collection